Automotive Parts Business
For automotive parts, top priority is given to safety. In recent years, we have produced many functional parts, important safety-related parts, etc., by solving a variety of challenges, such as weight reduction, extension of lifespans, and response to recycling of parts, due to increased environmental awareness.
We contribute to society through contributions to safe, clean, and comfortable car manufacturing, while ensuring quality that can more than completely satisfy our customers.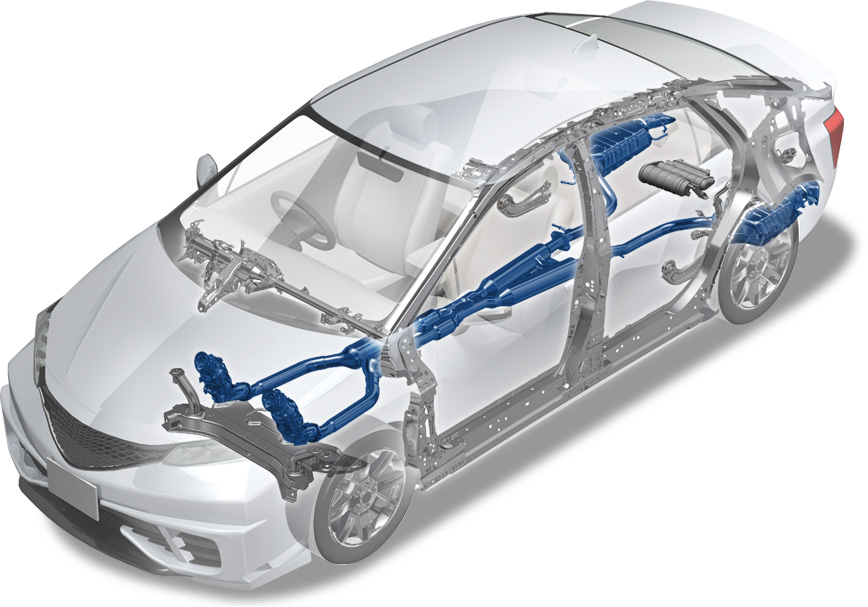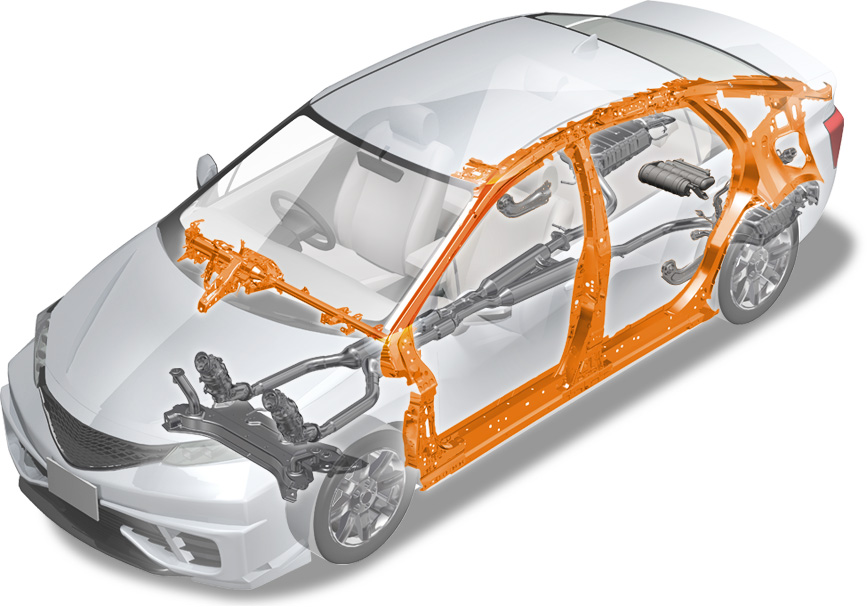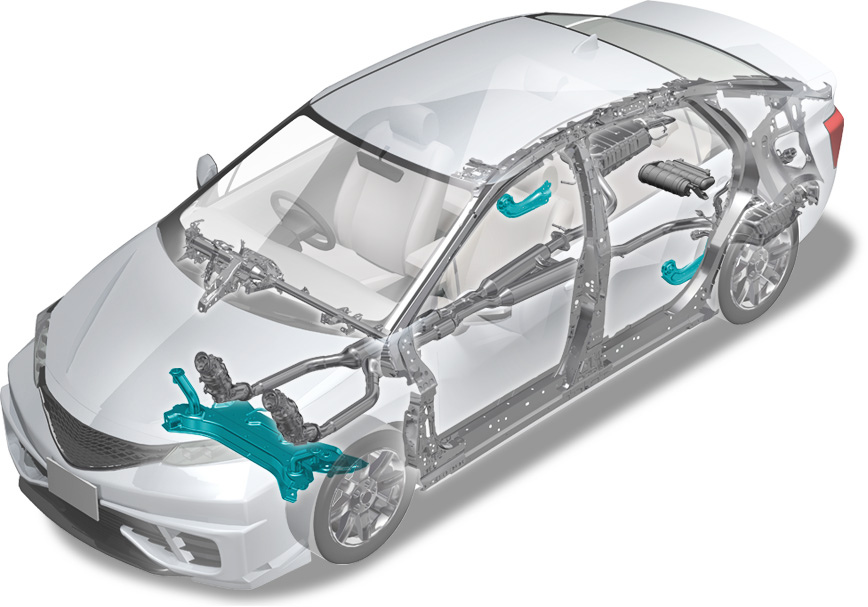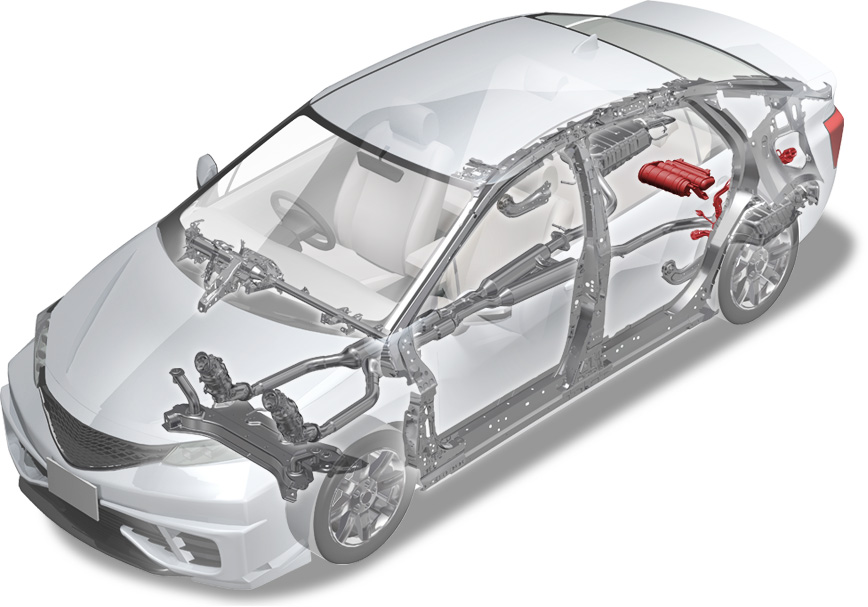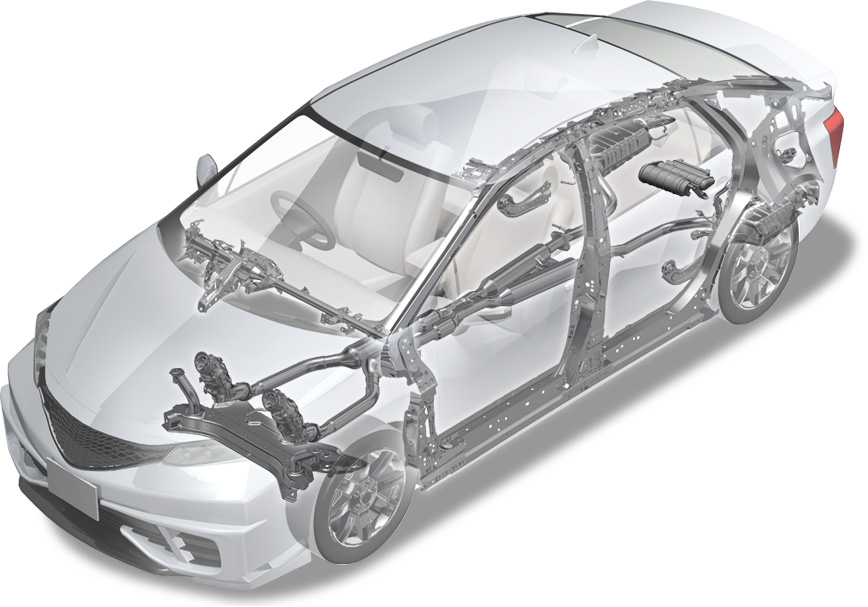 Exhaust system parts
Environment system parts
Body parts and interior parts
Suspension parts
Fuel system parts
Exhaust system parts
Exhaust system

Consisting of an exhaust manifold, catalyst, center and rear mufflers, and exhaust pipes between them, etc., this is one of the most important parts that not only serves to reduce exhaust gas temperature and noise and remove toxic substances, but also greatly affects tonal quality and the power performance of vehicles.

Exhaust manifold

This part functions to feed high-temperature exhaust gas from an engine into its exhaust system (catalyst). Although it once was made of casting, we pioneered the use of stainless steel pipes and plates in the spring of 1989, which became an industry-wide standard.
Environment system parts
POWEREV® (exhaust heat recovery device)

This device, which is mounted on the exhaust system of a hybrid vehicle or a cold-region-specified vehicle, serves to promote engine warm-up and improve heating efficiency by recovering gas heat discharged from the engine and quickly warms the engine cooling water.

Diesel exhaust gas post-treatment device

The filter apparatus that removes particulate matter (PM) contained in exhaust gas from a diesel engine is called DPF (diesel particulate filter). Also, the catalytic device that removes nitrogen oxides (NOx) contained in exhaust gas is called urea SCR (selective catalytic reduction). The DPF and SCR we produce, which are compliant with EURO6 emissions standards, are mounted on various vehicles, including passenger vehicles, commercial vehicles, farm machinery, construction machinery, and industrial engines.
Body parts and interior parts
Body frame parts

A body pillar is a frame part that secures passenger compartments of a vehicle and holds the front and rear doors. This serves to receive and absorb impact in the event of a collision from the front or side and secures space for passengers to survive.

Instrument panel reinforcement

This part is located inside an instrument panel (dashboard), supporting the steering, instrument panel, audio, etc. It also has an occupant protection function in the event of a collision.
Suspension parts
Front suspension sub-frame

This part integrates suspension arms, a steering rack case, an engine mount, and other fixing points to couple and modularize the entire suspension with the body. Strength and rigidity are kept high for receiving and absorbing major impacts from various directions in the event of a crash.

Trailing arm

Supporting force in front-back direction, this part receives impacts from acceleration, deceleration, and uneven road surface.

Rear axle beam

This part is mainly used for the rear wheels of a small front-wheel drive (FF) vehicle. The midmost member called a beam has the function of stabilizing the posture.

Engine undercover

Being mounted on the underside of an engine, this part protects the engine from pebbles and stones bouncing up from the ground, etc. The material used is long glass fiber reinforced plastic.
Fuel system parts
Fuel inlet pipe

This part is intended to smoothly guide fuel from an oil filler to a fuel tank. Having a pipe structure, it is made of iron and stainless steel.
We also produce products with high corrosion resistance with our unique technology of electrodeposition coating on stainless steel.

Canister

This product is a plastic container filled with activated carbon.
When volatile gasoline is emitted for pressure regulation in a fuel tank, toxic substances are adsorbed through this product to release clean air into the atmosphere. We develop products that are compliant with strict environmental regulations in each country.